Same Day Appliance Repair in Elk Grove
With less than 200,000 people, Elk Grove is in-arguably the fastest growing city in Sacramento County in California and the second-largest city in the area. After its incorporation nineteen years ago, Elk Grove has advanced immensely in many ways. Although Elk Grove is among the most beautiful cities in the world, a home wouldn't be complete without the essential appliances to facilitate the daily household appliances such as fridges, washing machines, dryers, dishwashers, among other pieces of domestic equipment. Your hotel business or public laundry-mart need appliances that are functioning to their optimal level. Most home appliances are of high quality at the point of purchase. That way, you're assured that the appliances will serve you for a long time without a need for replacement. However, there's always that time when a random device breaks down and fails to work entirely. If that happens, call us immediately for a one-day appliance repair in Elk Grove.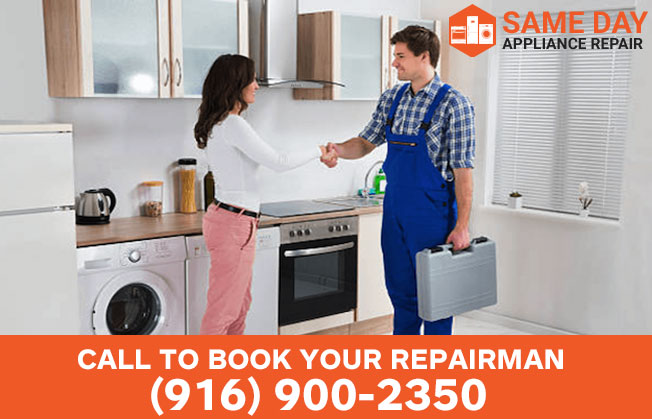 Let Us Help Restore Order in Your Home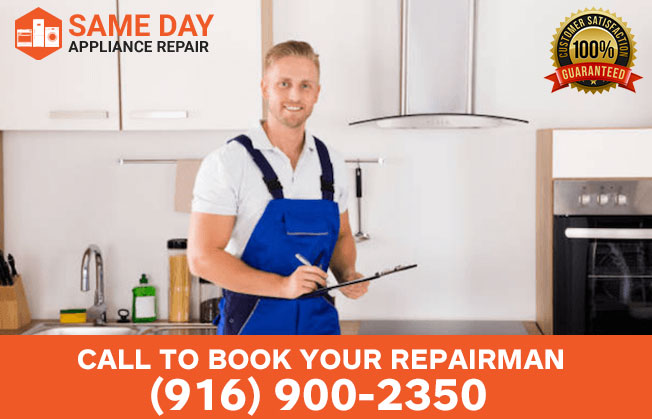 Have you had a correctly working washing machine fail to start? Or an expensive and high-quality fridge that made your food spoil because it stopped cooling? Small and big issues alike have the same effect on your home. They throw your plans out of order and cause havoc to your commercial facility or home. We can help bring back your seamless schedule and your home's proper functionality by offering our expertise in correcting all issues. Our technicians are factory trained and certified to handle all brands, especially major ones such as Dacor, Pitco, Moffat, Bosch, Samsung, Frigidaire, Viking, and many others.
Why Choose Us for Appliances Repair in Elk Grove-10 Reasons
Competent Pricing
We have extensive experience in the domestic appliances repair in Elk Grove. Over the years, we have realized that cost is a paramount factor for our clients. Repairs shouldn't cost the same as buying a new appliance. For that reason, we have put cost-effective measures that help us spend less, thus extend the savings to our clients.
We get most of our clients in a typical old-fashioned way through word of mouth from our happy patrons. This helps us to spend less on advertisements and other costly measures of bringing awareness to our company. Since all the costs end up transferred to the client in the long run, we aim to make the cost as minimal as possible while giving you value for your money.
Technical Support
When getting a suitable domestic amenities repair, get one who has the right technical support from popular brands. The primary benefit of having major brands; technical support is the fantastic warranties that you receive for spare parts, genuine and high-quality products as well as suitable prices. Furthermore, you get access to professional care when you need it without any delay.
Pre-screen Appointments
To adhere to the same day appointments and repairs, we usually have our field technicians carry out a pre-screen to determine the extent of damage and whether the appliance requires spare parts. The pre-screen helps us to bring everything on the actual repair day without going back and forth or leaving a job half done.
After spending any amount of time in your home or commercial facility, we aim to fix the problem without delays. We mean business when it comes to your peace of mind. We also care for our reputation by ensuring we accomplish that which you called us for within 24 hours without an unnecessary extension from our end unless you request us to.
We Handle All Major and Minor Brands
Our team of experts are qualified to handle a variety of brands, no matter how common or uncommon it is. There is, therefore, a significant chance that what we're capable of identifying and fixing issues for different fridge models, washers, trash compactor, Ice-makers to mention but a few. We also have over ten years' experience in handling commercial appliances such as washers and dryers,and kitchen appliances used in the hotel industry.
Continuous training and education
You can never underestimate the value of proper training. Having an appliance repair technician in Elk Grove with knowledge of current trends is a plus. After all, technology keeps advancing daily. New models keep coming up that are different from the preceding ones and require specialized knowledge and expertise. Repairing an appliance using obsolete methods not only lowers the life of your amenity, but it also keeps you from other benefits that come with technological advancement such as lower energy consumption.
We believe that one way to offer value to our clientele is through extensive study and research. Through continuous learning and work experience, we're market ready to handle any upcoming issues and provide long-lasting solutions. If you're looking for trained, educated, and factory-certified appliance repair experts in Elk Grove, look no further. We're your friendly, professional, and technologically advanced team that you'll appreciate having around for those emergency appliance hiccups.
Real-Time Dispatch of Software
Proper coordination between our office and the on-the-ground technicians helps to offer seamless and quick services at all times. Real-time communication and immediate action when required minimizes delay and gives you zero-waiting time. There's only so much stress that one can take when the commercial ice maker starts melting the ice, or when the cooker won't ignite. When your peace of mind is on the line, contact us and let us help you restore everything within the same day.
Professional Organization Members
Being a member of a reputable professional body helps keep us posted on the current licenses, education, and all matters about appliances repair. Due to the authority of the association, you can, therefore, trust us to handle your appliances without any worry of malicious damage and unprofessionalism. To be a part of the professional network ensures that we adhere to specific codes of ethics not only in how e interact with clients but also in the quality standards of our services.
Personalized Service
In a city full of thousands of unique people, how can we possibly personalize services? It's easy, we know all our clients by name and understand what they require from us because we take our time to find that out. Every person, home, and the appliance is unique. Therefore, we don't generalize our services as a one size fits all. We ask questions to understand not only the issue with the appliance but what you expect from us as we interact in your home or business.
Personalized service is a rare commodity, and most service businesses struggle to strike a balance between professionalism and personalized service. Our long years in the industry and emphasis on excellent customer services help us bring to you a tailor-made solution unique for you and your home or business.
Quick Response Time
Appliances are a sensitive commodity because you need them for daily use. You need your cooker every day to make some home-made meals. If it's a hotel, you might as well close if your stove isn't working. The same case applies to other amenities such as fridges, beverage coolers, ice-makers, to mention but a few. It's thus critical to have them back in their standard functionality as soon as possible.
If it's incredibly urgent, then we can handle it for you. We respond quickly to calls and appointments as well as fast service delivery. You don't need to wait for days or weeks before you can have your washer spinning again. Do you need a technician who is both professional and prompt? Save yourself the trouble of searching Elk Grove for a quick and efficient supplier because we're here for you. How can we help?
Reliability
A reliable company is not easy to pick, especially in the Elk Grove flooded appliance repair market. Although you may have some referees and online reviews, they mostly share their experiences but not necessarily advise on the company's reliability.
A reliable appliance repair company will always call you back without delay. They will keep to the schedule or call back to confirm a change in the previously set schedule. You won't need to call to remind them of an appointment, they call you instead. Our reliability will keep you coming back to us. Every call and meeting you make with us is significant.
A washing machine and dryer are essential appliances in any home that help keep the dirty laundry at the minimum. Unfortunately, you only realize how much convenient a washer is after it breaks down. It could be that the machine won't start, or it stops spinning. Sometimes, the door may also get stuck and fail to open. Even worse is when the clothes won't be clean after the last cycle.
Read More..
A kitchen is as valuable as its best functioning cooking appliances such as stove, oven, cooktop, and microwave. An increase in the number of fast-food home deliveries has only increased the appeal of home-cooked meals. The art of preparing and cooking your food makes the home warm and cozy.
Read More..
One of the most useful spaces in a house is the kitchen area. Unlike the living room or the bedrooms, it's less formal and accessible to everyone with one thing in mind; cleanliness and functionality. A kitchen's primary use, however, revolves around the adopted appliances and their effectiveness in minimizing the house chores.
Read More..
If you want to have fresh food for longer or are looking forward to a cold drink in summer, then a fridge's ice maker and freezer are an essential part of your household. It's, however, a cause for alarm if you find the ice cubes in the icemaker is melting.
Read More..
Contact Us Now for Appliance Repair in Elk Grove
Living in Elk Grove means that your appliances are subjected to extreme weather, especially during summer and winter. Extreme temperatures interfere with appliances normal functioning causing frequent break-downs. You need to have an appliance repair technician on standby for those days when the amenities fail to work. With us, you're assured of immediate response and speedy repairs using genuine spare parts.
Contact Us