Fridge Icemaker and Freezer Repair ~ Elk Grove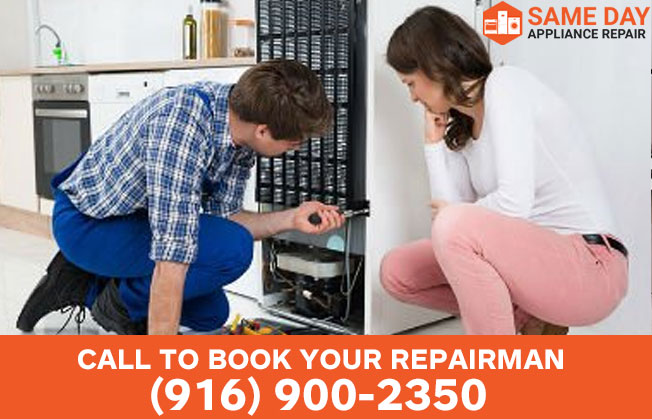 If you want to have fresh food for longer or are looking forward to a cold drink in summer, then a fridge's ice maker and freezer are an essential part of your household. It's, however, a cause for alarm if you find the ice cubes in the icemaker is melting.
Worse still, is when the fridges seem to consume more power than usual but you always end up with a messy puddle in the ice maker and a room-temperature freezer. Appliances don't come cheap and more so, a fridge with either ice maker, freezer, or both. So when do you know when to call an ice maker repair professional or hit the stores for a new one?
Check out our list of the most common problems with icemakers and freezers that we can quickly remedy for you. If your fridge is between 3 to 4 years, there's no need to replace it with new. Besides, if the repair charges are more than half the cost of a new appliance, it's best to go for a new appliance.
Why You Should Choose Us for Freezer Repair
We Work With A Variety Of Brands
Same Day Appliance Repair work with a vast number of brands, which means that no matter what you are using, we have the expertise to handle the issue. This can be Viking, LG, Samsung, Whirlpool, Moffat, Geo, SubZero, Wolf, and many others. With us, you're assured of quality service with any refrigerator model.
Experienced Technicians
Our factory-trained technicians are aware of the current trends in the freezer and icemaker technology. Our many years of experience is also an assurance that we have seen most the refrigerator problems and resolved successfully. For these reasons,you can, therefore, rely on us to deliver top-notch service.
Same Day Repair
Most freezers and icemaker issues occur at the most unlikely times, such as during a heatwave in summer. You don't need a longer wait at such a time. That's why we stick to a one-day repair service without a reschedule.
Original and Warrantied Spare Parts
If your refrigerator needs a part replacement such as the gas, we offer high quality and genuine spare parts. In addition, these parts are warrantied, so you don't spend further money on them if they break down within the warrantied period.
24/7 Availability
In our company, we don't dictate the hours you do. Therefore when booking for an appointment, you can choose any time of day that works for you. If there are any reasons that we can't meet your timelines, we call you so you can reschedule another time.
Call Us When Your Ice Maker Shows These Defects
Ice ejecting makes use of a motor or gearbox. If one or both are worn out, then there's a need to replace them. To ensure that you have the right diagnosis, check if the arm on the ice maker is facing down. If it's not, slowly move it downwards to start ejecting ice. Call us to fix the problem in a short time so you can begin enjoying ice-cold drinks once more.
The work of an ice maker is to harvest water and generate ice cubes. If there are no ice cubes being made, then there's a problem with water pressure or a clogged supply line. We can replace the faulty parts with genuine spares or simply guide you through a phone call on how to troubleshoot the problem if you choose.
If you notice that the ice cubes are either too big, too small or not defined, adjust the settings and see if there's any change. Call us to fix the problem if the situation still persists after adjustment.
The water damage is too considerable a risk to ignore for a long time. However, don't panic since we're your fast, neighborly, and friendly technicians. We ensure that you have the best service possible and on the same day. This mitigates any risk of damaged floors or growth of mold due to the dampness.
Frequent freezing of ice makers is due to the faulty valves, low temperatures, fill tube and water filters. All these parts require replacement after a while. We'll replace them with genuine and warrantied parts.
There are two reasons why your gas burner fails to light. It could be a blockage with the gas supply pipe or a problem with the ignitor. To test the issue, turn the gas on and press the ignitor. A clicking sound should come up and gas smell. That shows the problem is with the ignitor. If the clicking sound comes up but no gas smell, then there's a blockage in the gas pipe. We'll help to clean out and restore the gas burner to its original functionality within a short time.
Is Your Freezer Having These Issues? Worry Not. We're Here For you
Before you make an assumption that particular noise is from a faulty freezer; you need to ensure that you know what's causing the sound. After checking that the noise is not from the swishing of ice, water or a defrost cycle, then give us a call and we'll check and fix the cause and source of the strange freezer noises.
If you notice a pool at the bottom of your freezer, there's likely hood that your drainage pipe is blocked by frozen water. If there's still visible leakage after
A fridge's average temperature is usually 0 degrees Celsius. If the temperature goes higher than this, then the thermostat has an issue and needs replacing.
While there are many issues that could result in a frost build up in the freezer, there's also a high chance of replacing the defrost heater. Worry not if you're finishing a lot of frost buildup within the fridge, we can always come to the rescue.
If a fridge isn't running as expected, it could be a result of a number of issues with the fan or compressor. Restarting the appliance usually takes away the problem. However, if after several minutes the freezer won't start, then there's a need to replace the parts through a professional.
If on the other hand, the freezer runs non-stop, give us a call since the problem could be coming from the appliance or the environment. We ensure to run all the diagnostics so that you can go back to enjoying fresh food for longer.
Book an Appointment For Laundry Appliance Repair in Elk Grove
If you have an emergency appliance service contact, you're a step ahead of most. Having a reliable technician will save you time, money, and even peace of mind.
We are a team that is sorely dedicated to making your life less stressful by responding to your calls of distress immediately. We don't wait for reminders on appointments, and we're never late. You can trust us with all your appliances services needs regardless of brand or model
Contact Us