Laundry Appliance Repair ~ Elk Grove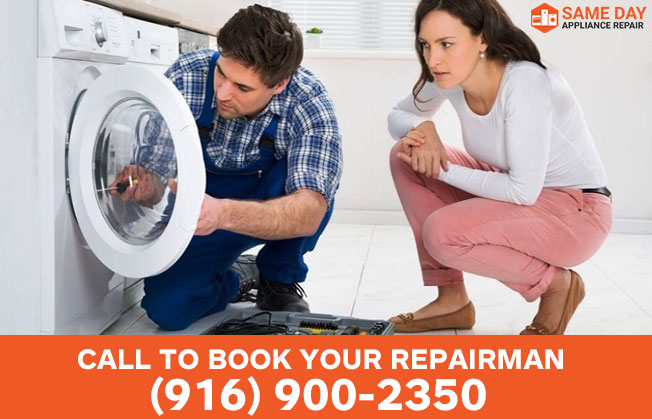 A washing machine and dryer are essential appliances in any home that help keep the dirty laundry at the minimum. Unfortunately, you only realize how much convenient a washer is after it breaks down. Our Laundry Appliance Repair services can help you when the machine won't start, or it stops spinning. Sometimes, the door may also get stuck and fail to open. Even worse is when the clothes won't be clean after the last cycle.
If any or all of these issues happen to your washer or dryer, you can rely on us to service the appliance for you on the same day. It's frustrating to have a machine that won't perform. Other than piled laundry and a bit of extra manual cleaning work, there are significant risks that come with a faulty washer such as water damage on your walls and flooring.
You need an appliance service technician in Elk Grove who understands the distress of having a broken washer or dryer. Same Day Appliance Repair is a friendly team of technicians who are reliable, honest, and also understand how to handle emergencies effectively.
Let Us Handle Your Laundry Appliances Repair
Washers come in different models, mechanisms, and brands. We handle all types such as front-load, top load, fully automatic as well as semi-automatic washers. We are a team of experienced appliances repairers for different brands such as Whirlpool, Bosch, Samsung, LG, Viking, among many others.
We also handle dryers that are electric, propane, or natural gas-powered from all brands.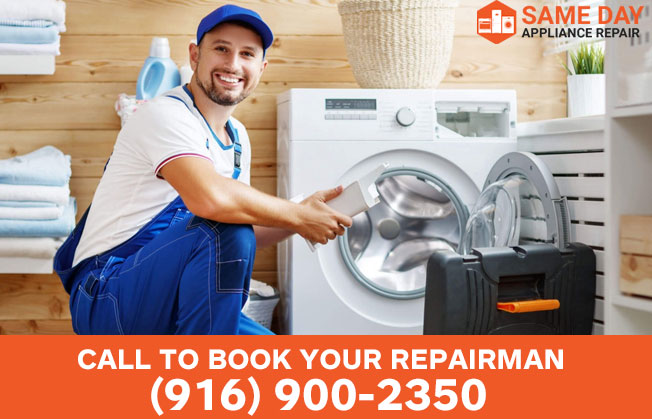 Common Laundry Appliance Issues
All laundry appliances have similar issues that vary from mild to extreme cases. The problems may differ with the make and model of an appliance. Particular problems are common with top loaders and rare in front loaders and vice versa.
Our many years in appliances repair services have given us rich experience in many of the issues with washers.
Contact us immediately if you're experiencing any of the below problems and we'll handle the issue for you using original spare parts when needed with warranties. Our association with most brands' technical support will assure you of quality and timely help when you need it.
Call Us Immidiately To Fix These Common Washer Problems
If a washing appliance is not starting after loading your clothes; try redistributing the garments evenly to achieve a balance. If it's still not working, check the connection to the power and call us immediately if all seem to be working well. Different issues cause a washer not to start, and our team of experts can diagnose and give a solution within a short time.
The issue with overloading or under filling of the washer is a result of problems with pressure switch, pressure chamber, or pipe. A blocked pressure chamber can result in overfilling of the washing machine while a hole in the pressure pipe will make the washer to under-fill. If you're having issues with a washer under filing or overfilling, give us a call, and our able technician will be with you in the agreed time to solve the problems.
If you have noticed water leakage, especially from the soap dispenser, the first diagnosis would be the type of soap you're using. Some have large particles that don't dissolve, and they build up over time. The other cause could be too much pressure resulting from a buildup of suds or surge that cause the motor to spin out of control. Do not ignore the leakage as a small issue as it may result in water damage, which will cause further issues. Let us help you as soon as you notice this problem.
Spinning and drainage systems of an appliance are closely interconnected. If the drainage is blocked, the washing machine won't spin. The issue may need a replacement of a motor belt, motor capacitor, or airbrushes that could be worn out or out of place. Lucky for you, when you call us, we replace all the parts required with original market approved parts with warranty.
Over time, a washing machine accumulates fabric fibers that end up clogging the draining pump. This causes difficulty in draining, which produces a lot of noise. Although the task of cleaning the pipe may seem easy, it involves dismantling the washer, which requires a professional technician. We'll help sort the issue and reassemble the appliance immediately.
We Can Fix These Dryer Problems Within 24 Hours
When the dryer seems to operate normally but doesn't seem to get the job done, then there's an issue with the heating elements that fail to produce enough heat to dry the clothes. Although the dryer may spin and finish the cycle as needed, if the heating element is worn out, it will not emit enough heat to dry the clothes. Our team also checks on other issues that affect the heating elements such as ventilation and thermal fuse.
All dryers use a belt to spin the drying drum. Continuous use makes the belt become loose or break. Although this happens after a significant time, you'll need a technician who can replace it with a genuine belt and pulley. We repair broken belts and replace worn-out ones with original high-quality spare belts. The process involves disassembling the appliance and putting it back together after belt replacement.
A dryer should make your laundry easy to manage and not add more work to it. When your clothes come out wrinkled, they give you extra ironing work and you may not have the time. Although our clients face this problem many times, the issue is less of a technical one. Sorting clothes before placing them in the dryer will reduce the wrinkling on the lighter fabrics.
Book an Appointment For Laundry Appliance Repair in Elk Grove
If you have an emergency appliance service contact, you're a step ahead of most. Having a reliable technician will save you time, money, and even peace of mind.
We are a team that is sorely dedicated to making your life less stressful by responding to your calls of distress immediately. We don't wait for reminders on appointments, and we're never late. You can trust us with all your appliances services needs regardless of brand or model
Contact Us